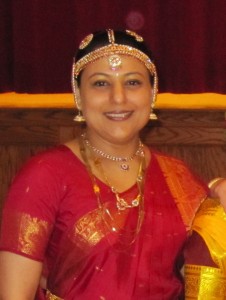 Archana Thaker
Email: archana.thaker@gmail.com
Phone # (317) 698-9039
Through her dance academy Aradhana Institute of Dance, Mrs. Archana Thaker has been teaching Bharata Natyam (classical) as well as Bollywood and Folk Dances of India in Indianapolis, Indiana for the past 15 years. Archana began her training in Bharata Natyam at a young age of 5 under a distinguished teacher in Pune, India. Archana is trained in the Kalakshetra style of Bharata Natyam.
Under her guidance, Archana has presented students in their Bharata Natyam Arangetram – the etram or ascending of the arangu or performance stage by the dancer, on the completion of the dancer's training.
Archana has been on the faculty of the Academy of the Gregory Hancock Dance Theatre and has taught dances of India at the Summer Intensive Workshop for more than eight years. Teaching at the Academy is a means of fostering cultural exchange between the people of India and the US through Indian Classical, Folk, & Bollywood dancing.
She has judged several events including National Dance Competitions such as the Raas Royalty hosted by Indiana University, Bloomington and the Dandia Dhamaka hosted by University of Michigan, Ann Arbor.
Aradhana students have performed for Sangam – Lilly India Network, Indy 500 Parade, Indy International Festival, Indiana State Fair, Indiana Historical Society & Traditional Arts Indiana, India Association of Indianapolis, and Friends of the Pike Performing
Arts Center (Taste of Pike). They have also performed for other non-profit organizations and local schools. Aradhana students are renowned for their performances in the local Indiana Community.
Apart from her deep learning and knowledge in the dances of India, Archana received her degree of Bachelor of Science in Business with a major in Finance and a minor in International Studies from the IU Kelley School of Business in 2000. She also received her MBA with a concentration in International Business in December 2007 from Butler University. She has served as the Chairperson of the Board of Trustees of the India Association of Indianapolis (IAI) in 2007 and the President of the IAI Executive Committee in 2002 and 2003.  She currently serves as the Youth Group Advisor for the IAI Executive Committee .
Dance Studio
Primelife Enrichment Inc
1078 3rd Ave SW
Carmel, IN 46032